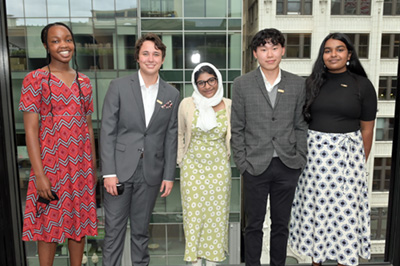 The National Student Poets were selected from students in grades 10-11 who submitted more than 20,000 works in the Scholastic Art & Writing Awards and received top honors in poetry. From this pool of National Medal recipients, 35 semi-finalists are identified as the most gifted young poets in their regions, based on their originality, technical skills, and personal voice, and were invited to submit additional poetry and performance videos to distinguished jurors for the final selection of the five National Student Poets.
The following five high school students have been chosen from among thousands of award-winning poets to serve for a year as National Student Poets, the nation's highest honor for youth poets presenting original work. Representing five geographical regions of the nation:
RC Davis (Midwest), from Oak Park, Illinois
Aanika Eragam (Southeast), from Milton, Georgia
Kevin Gu (Northeast), from Hopkinton, Massachusetts
Kechi Mbah (Southwest), from Houston, Texas
Sarah Fathima Mohammed (West), from San Jose, California
Read the full announcement on the IMLS website.
The Student Poets were appointed by the Director of IMLS, Crosby Kemper, on September 21, 2021 at the Martin Luther King, Jr. branch of the DC Public Library in Washington, D.C. The ceremony features remarks by the 19th US Poet Laureate Natasha Trethewey, as well as remarks from the 2020 class of National Student Poets.
Webcast
Watch the full event on the Scholastic Art and Writing Awards site. Video will become available closer to the start time of the event.
About the National Student Poets Program
The National Student Poets Program is a collaboration of IMLS and the nonprofit Alliance for Young Artists & Writers, which presents the Scholastic Art & Writing Awards, the nearly century-old program known for its recognition and celebration of the country's most creative teens. Annually, five students are selected for one year of service as literary ambassadors. The program links the National Student Poets with audiences and neighborhood resources such as museums, libraries, and other community anchor institutions.
Learn more about the program and the 2021 Class of National Student Poets. You can also follow the National Student Poets on the program's Facebook page.