You are here
National Student Poets Program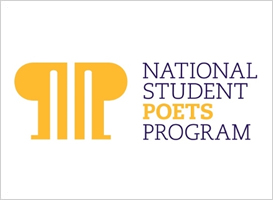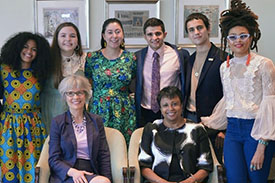 The National Student Poets Program is the nation's highest honor for youth poets presenting original work. This partnership between IMLS and the Alliance for Young Artists & Writers recognizes student poets' achievements at the national level and highlights the importance of literacy.
Each year, a national panel of literary luminaries selects five National Student Poets from gold and silver national medalists in the poetry category of the Scholastic Art & Writing Awards. The young poets, nominated while in grades 10 and 11, are appointed at a special ceremony in August in Washington, DC. During their year of service, the poets lead readings and workshops at libraries, museums, and schools, and participate in a range of regional literary and arts events.
The 2018 poets represent five different regions of the nation:
Darius Atefat-Peckham, Grade 12, Interlochen Arts Academy, Michigan (Midwest)
Daniel Blokh, Grade 12, Alabama School of Fine Arts, Alabama (Southeast)
Alexandra Contreras-Montesano, Grade 12, Burlington High School, Vermont (Northeast)
Heather Laurel Jensen, Grade 11, Red Mountain High School, Arizona (Southwest)
Ariana Smith, Grade 12, Las Vegas Academy of the Arts, Nevada (West)
View the 2018 awards ceremony on YouTube, read the Class of 2018 Chapbook (PDF 2.8MB), and follow the poets on the National Student Poets Program Facebook Page.
Publications
Events/Webinars