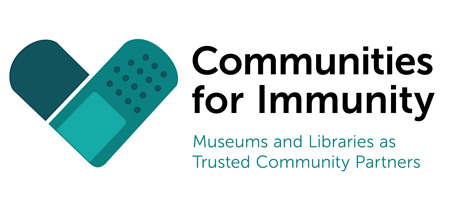 Communities for Immunity is a partnership between The Association of Science and Technology Centers, the Institute of Museum and Library Services, the U.S. Centers for Disease Control and Prevention, the American Alliance of Museums, the American Library Association, and the Network of the National Library of Medicine to boost COVID-19 vaccine confidence in communities across the United States.
Communities for Immunity will provide funding to museums, libraries, science centers, and other cultural institutions to enhance vaccine confidence where it matters most: at the local level. Building on the many ways they have supported their communities during the pandemic, the partnership will activate museums and libraries to create and deliver evidence-driven materials and develop resources, programs, and approaches specifically designed to help museums and libraries engage diverse audiences in building trust in the COVID-19 vaccine.
Communities for Immunity builds on a number of earlier and ongoing efforts to activate engagement in vaccine confidence work, including REopening Archives, Libraries and Museums (REALM), a research partnership between OCLC, the Institute of Museum and Library Services, and Battelle; Vaccines & US, led by the Smithsonian and in collaboration with a range of partner organizations and individuals; Vaccinate with Confidence from the CDC; We Can Do This from the U.S. Department of Health and Human Services; and the It's Up to You campaign led by the Ad Council and COVID Collaborative.
Additional organizations joining in the effort include the Association of African American Museums (AAAM), the Association of Children's Museums (ACM), the Association for Rural and Small Libraries (ARSL), the Association of Tribal Archives, Libraries, and Museums (ATALM), and the Urban Libraries Council (ULC).
For more information, please visit CommunitiesForImmunity.org.