Over 118 Million People Attended Library Programs Annually
Report Shows Increase in Collections Materials and Library Programs
Washington, DC—Volume II of the Public Libraries Survey report, released today by the Institute of Museum and Library Services, provides trend analysis of public library use, financial health, staffing, and resources.
The report focuses on two demographic characteristics for FY 2017: locale (i.e., city, suburb, town, rural) and population size served (e.g., fewer than 2,500 people, more than 25,000 people). Together, Volume I and II document the varied ways in which trends in libraries are similar and different across states, location types, and the size of the populations they serve.
Each year since 1988, the Public Libraries of the United States Survey has provided a national census of America's public libraries. The data is collected from approximately 9,000 public library systems comprised of over 17,000 individual main libraries, library branches, and bookmobiles in all 50 states, the District of Columbia, and U.S. territories.
Volume II of the 2017 report includes the following findings:
The number of collection materials (books, e-books, audio-video materials) per person increased at libraries in all types of communities since 2008 with the largest increases in these resources at libraries in towns and rural areas and at libraries that serve populations with fewer than 25,000 people, where collections material per person more than doubled.

Public library staff offered an increasing number of programs attended by increasing numbers of patrons at libraries serving varied population sizes and in various locales, even as use of traditional library services—circulation, library visits, reference transactions, have declined since 2008.

Per person expenditures in 2017 were larger for libraries in cities ($43.09 pp) and suburbs ($42.04 pp) than in towns ($29.33 pp) and rural areas ($30.17 pp).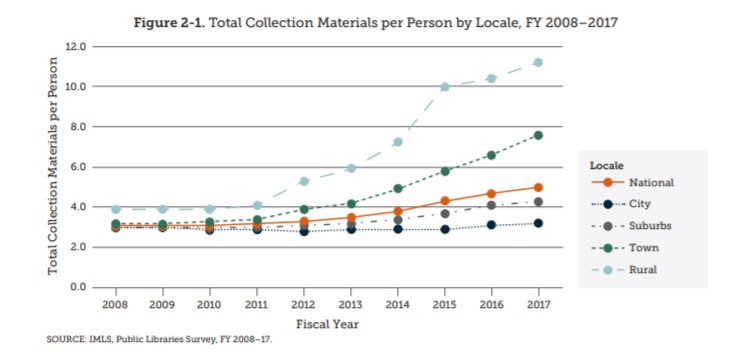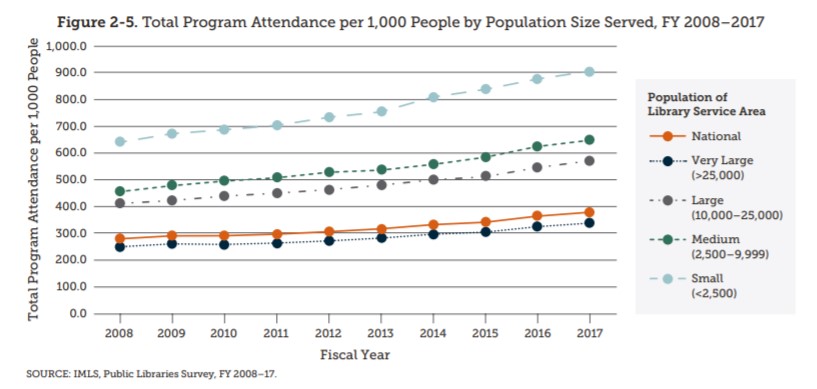 For more information about the Public Libraries Survey, including a snapshot of rural libraries and state detail tables, please visit the IMLS website.
About the Institute of Museum and Library Services
The Institute of Museum and Library Services is the primary source of federal support for the nation's libraries and museums. We advance, support, and empower America's museums, libraries, and related organizations through grantmaking, research, and policy development. Our vision is a nation where museums and libraries work together to transform the lives of individuals and communities. To learn more, visit www.imls.gov and follow us on Facebook and Twitter.