These grants make significant impacts on communities throughout the nation by preserving historically significant properties and collections that tell the stories of the American people, while also economically impacting local communities.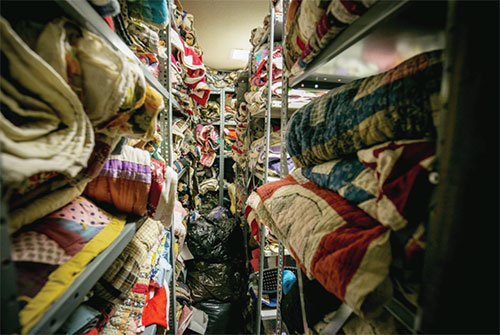 Washington, DC—The National Park Service, in partnership with the Institute of Museum and Library Services, the National Endowment for the Arts, and the National Endowment for the Humanities, announced $25.7 million in Save America's Treasures grants to fund 58 preservation and conservation projects in 26 states.
These grants and the matching funds support the preservation of nationally significant historic properties and collections across America. IMLS will administer 25 of the awards, totaling $6,721,847. These projects involve collections (including artifacts, museum collections, documents, sculptures, and other works of art).
Examples of awarded grant projects include:
The University of California's Berkeley Art Museum and Pacific Film Archive will undertake a conservation project for approximately 1,800 quilts, pieced fragments, and textile object in its African American quilts collection. The collection contains works by more than 500 individual quilters and nine intergenerational families. Conservation work for the project will include treatments to remove microbial, mold and insect infestations, careful cleaning and drying, and rehousing of objects. As a result of the project, the quilts and related material from the collection will be preserved for future research, educational, and exhibition purposes.

The YIVO Institute for Jewish Research will digitize materials from two collections that are part of its Jewish Labor and Political Archives: The Workmen's Circle Collection and the Photograph Collection. The Workmen's Circle Collection is comprised of 38.5 linear feet of materials from a Jewish labor fraternal order of immigrants to the United States from Eastern Europe. The Photograph Collection includes 15,000 photographs that visually represent the activities of major United States political and labor organizations and their Jewish immigrant members. These collections, which include scrapbooks, correspondence, meeting minutes, photographs, and other archival materials, document the history of Jewish communities and associated labor movements in America and will be rehoused to create better intellectual control through metadata and digitization.

The Wisconsin Historical Society will preserve and provide access to at-risk materials in 26 collections documenting the modern American Civil Rights movement. For the project, staff selected materials for conservation and digitization that are most frequently requested for research purposes, including approximately 490 cubic feet of archives which include 2,412 audio recordings, 445 moving images, 101 microfilm reels, and more than 22 cubic ft of graphic materials, such as photographs, posters, and ephemera. The historical society will stabilize, rehouse, and perform conservation treatments on at-risk physical items. Staff will digitize collection items and make them accessible online for public use.
The Federal Save America's Treasures program was established in 1998, and is carried out in partnership with IMLS, NEA, and NEH. Since 1999, Save America's Treasures has provided over $300 million to more than 1,300 projects to provide preservation and conservation work on nationally significant collections, artifacts, structures and sites. Requiring a dollar-for-dollar private match, these grants have leveraged more than $500 million in private investment and contributed more than 16,000 jobs to local and state economies. These awards totaling $25,750,000 will leverage almost $60 million in private and public investment.
For more information on IMLS's Save America's Treasures projects, visit the IMLS website and search awarded grants. For a list of all previously funded Save America's Treasures projects, please view the Impact of the Save America's Treasures Grant Program Map.
About the Institute of Museum and Library Services
The Institute of Museum and Library Services is the primary source of federal support for the nation's libraries and museums. We advance, support, and empower America's museums, libraries, and related organizations through grantmaking, research, and policy development. IMLS envisions a nation where individuals and communities have access to museums and libraries to learn from and be inspired by the trusted information, ideas, and stories they contain about our diverse natural and cultural heritage. To learn more, visit www.imls.gov and follow us on Facebook and LinkedIn.