IMLS 250: All Stories. All People. All Places.
Conversation with Dr. Edna Medford Launches New IMLS Initiative Commemorating the U.S. Semiquincentennial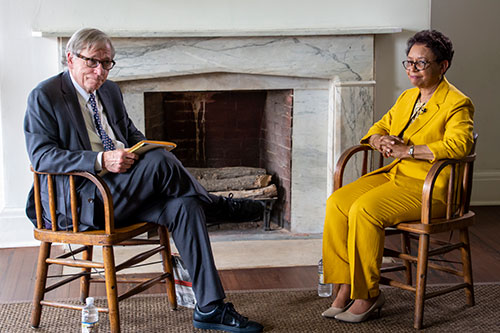 Washington, DC—The Institute of Museum and Library Services announced a new initiative, "IMLS 250: All Stories. All People. All Places," to engage the nation's libraries, museums, and archives as they commemorate the 250th anniversary of America's founding.
To launch the initiative, IMLS hosted a conversation with Dr. Edna Medford about President Lincoln and the Emancipation Proclamation at President Lincoln's Cottage in Washington, D.C. on May 25. Edna Medford Ph.D. is a former Associate Provost for Faculty Affairs and Professor of History Emerita at Howard University. Her research focuses on American slavery, the Lincoln presidency, the Civil War, Emancipation, and Reconstruction.
"Dr. Medford, as a leading authority on the Emancipation Proclamation, helps us understand how Abraham Lincoln and Frederick Douglass viewed and used the Declaration and the Constitution in our continuing struggle to march toward more complete adherence to our principles of self-government and the obligations of citizenship in a republic," said IMLS Director Crosby Kemper.
The conversation with Dr. Medford is the first in a series of events with historians, biographers, critics, commentators, and civic leaders, including an upcoming conversation with Dr. Wilfred McClay.
"We hope these conversations will inspire libraries and museums to their own programmatic engagement with our past as it lives in the present and continues to shape our future," Kemper added.
This initiative is committed to honoring the value of all stories about our nation's development over the past 250 years, focusing on local histories and how their actions shaped the country, while respecting regional and cultural differences and ensuring multiple voices are represented.
Major themes for interconnected programs throughout 2022 include:
Civic Engagement and Community Conversations as tools for exploring unresolved historic issues—understanding each other better results in community building, civic engagement, and healing;

Monuments, Memorials, and Symbolic Commemorations as methods for engaging in community dialogue about who, what, and why particular people, events, or histories should be remembered, as well as looking forward to future monuments; and

Voting Rights and Naturalization as natural extensions of civic and community engagement.
"We hope to elucidate the shared history and shared ideals of American history and culture with these fine minds in preparation for telling the inclusive, diverse, frequently unknown or forgotten stories of all communities in our country as they relate to the larger national story and our ongoing attempts to be worthy of our founding ideals of the right to life, liberty, and the pursuit of happiness equally shared by all," said Kemper.
IMLS is a partner of the U.S. Semiquincentennial Commission.
About the Institute of Museum and Library Services
The Institute of Museum and Library Services is the primary source of federal support for the nation's libraries and museums. We advance, support, and empower America's museums, libraries, and related organizations through grantmaking, research, and policy development. IMLS envisions a nation where individuals and communities have access to museums and libraries to learn from and be inspired by the trusted information, ideas, and stories they contain about our diverse natural and cultural heritage. To learn more, visit www.imls.gov and follow us on Facebook and Twitter.