Contact Name
Ms. Tessa Michaelson Schmidt
Contact Title
Assistant State Superintendent
State Library Address
Division for Libraries and Technology
125 South Webster Street
P.O. Box 7841
Madison, WI 53707-7841
United States
Contact Email Address
tessa.schmidt@dpi.wi.gov
Grants to State Programs
The Grants to States Program
The Grants to States Program is the largest grant program run by IMLS; it provides funds to State Library Administrative Agencies (SLAAs) using a population-based formula set by the law. SLAAs determine goals and objectives for the funds in their statutorily required five-year plan (see below). For more information, see the Grants to States program overview.
Allotments

| Year | Allotment Value |
| --- | --- |
| 2018 | $2,879,721.00 |
| 2019 | $2,917,382.00 |
| 2020 | $3,011,929.00 |
| 2021 | $3,039,902.00 |
| 2022 | $3,041,221.00 |
5 Year Plan

5 Year Plan Text

Each state creates a 5-year plan for its programs to strengthen the efficiency, reach, and effectiveness of library services. View all states' plans.
5 Year Evaluations

5 Year Evaluation Text

At the end of a 5-year period, each state reports their results in achieving goals and objectives projected in their 5-Year Plan. View all states' evaluations.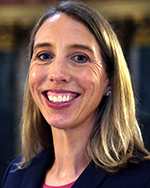 "Wisconsin strives to enhance equitable library services through state leadership, and regional and local collaborations."
 
--Tessa Michaelson Schmidt, Assistant State Superintendent, Division for Libraries and Technology, Wisconsin Department of Public Instruction 
 
Project Examples
Digital Consumers to Digital Entrepreneurs
The Kenosha Public Library (KPL) offered four 6-8 week sessions of coding camps with the assistance of mentors from the community. KPL also established partnerships with several schools in the Kenosha Unified School District to bring coding programs into each K-5 classroom. The coding programs offered at the library were directed primarily at students in grades 3-5 with different levels of familiarity and skill with digital technologies. Class sizes for these programs were kept small and mentors gave one-on-one assistance to students throughout each session. Programs were designed to build skills such as critical thinking, creativity, and collaboration and to help students become comfortable using technology for digital creation. The programs also engaged students in the concepts behind coding and encouraged them to learn more about technology & computer science.
IMLS Funds: $18,773.00
Serving the Homeless: A Planning Grant
The Serving the Homeless Planning Grant provided opportunities for library directors and staff in the South Central and the Southwest Wisconsin Library Systems to attend a regional symposium and plan library services for homeless populations. The target audience for this grant was public library staff from libraries who serve homeless patrons and those living in extreme poverty. The planning grant brought library staff together with regional social service agency staff. This meeting helped form partnerships that will strengthen through future projects and identification of shared community goals. The work that began in this planning grant will affect SCLS planning directions for years to come.  Wisconsin communities will continue to change, and library staff are now better equipped to respond.
IMLS Funds: $1,000.00
Promoting Family Engagement and Media Mentors
The Indianhead Federated Library System promoted early literacy through a workshop on family engagement and a series of follow-up webinar discussions. Volunteer Media Mentors helped promote libraries as resources that can help parents make sense of media, technology, and screen time.  The library also created a series of four "Tinker Times," which discussed how play is related to early literacy skills.  A workshop was designed for librarians to learn about evaluating and finding good applications.  The second workshop focused on the effect screen time had on young children. Participants discussed the most important elements in child development and how technology can be used to support that development. A handout with a set of 10 talking points was created for parents, as well as a slide presentation for people to use in presentations.
IMLS Funds: $20,482.00
Review recent Grants to States projects from this state library in the State Program Report database.
Search the Awarded Grants Database for additional details about awards in this state or view the State Details Dashboard..
View the IMLS funding by state report - Wisconsin (PDF 1.04 MB) with additional information about all IMLS funding for this state (FY 2011 – FY 2016).
Five-Year Plan Highlights
Goal 1: Robust and equitable access to technology through statewide infrastructure, programs and consulting services.
Projects include:

Provide consultant services to assist libraries in using and coordinating technology.
Statewide Coding Initiative: Provide resources and tools to enable libraries to provide electronic content and increase learning opportunities for users.
Develop programs and projects that support member libraries in their use of technology.
Cooperative Children's Book Center (CCBC) database development: Support learning and research related to literature for children and young adults by enhancing CCBC services.
Goal 2: Statewide sharing of information resources and collaboration among libraries to provide equitable and efficient library services for all Wisconsin residents.
Projects include:

WISCAT platform and staff: Provide a resource sharing platform to enable libraries to borrow physical materials and copies of articles or book chapters from other libraries for their patrons.
Interlibrary Loan (ILL): Provide a statewide clearinghouse for interlibrary loans across the state.
Statewide Delivery Service: Facilitate resource sharing by supporting a statewide delivery network to move materials between libraries.
BadgerLink: Implement and manage the State's online library of licensed content.
Public Library System Redesign (PLSR): Refine concepts and system design options so Wisconsin libraries can deliver more effective and affordable services to their patrons.
Wisconsin Depository Program/Digital Archive: Catalog electronic documents from state government websites and make the collection discoverable state and nationwide.
Digital Public Library of America (DPLA): Support the development of a collaborative statewide strategy for digitization and digital preservation of content.
Goal 3: Increased leadership capacity and utilization of management standards for public libraries.
Projects include:

Design and deliver a library director orientation "boot camp" program designed specifically for new library directors.
Provide consultant services to manage and coordinate library development through law, finance and data.
Provide a leadership development program that strengthens the ability of library staff to connect with and serve user communities.
Provide library trustees with the educational resources, tools, and instructions they need to fulfill their duties.
Provide consultant services to library directors and regional system staff on the collection, management, and effective use of data.
Explore and develop digital tools that allow libraries to measure their progress according to state standards and other libraries.
Goal 4: Stronger engagement of public libraries with their communities and utilization of data to actively adapt to community needs.
Projects include:

Community outreach training: Determine effective models and train library staff to encourage engagement between libraries and local communities.
Provide access to Public Library Association's Project Outcome materials and training to improve local libraries' ability analyze community data and adapt accordingly.
Enable library systems to provide assistance and resources to member libraries for basic and enhanced data collection and analysis.
Goal 5: Increased participation of youth and under-represented populations in accessing library programs and services through staff training and shelf-ready resources.
Projects include:

Provide consultant services that will promote community, school and public library cooperation in support of literacy and learning.
Summer Library Program: Provide universal, low-cost, library-developed and shelf-ready campaigns for the annual summer reading program.
Youth Services Development Institute: Provide in-person training and networking for youth library staff who are isolated, rural or have limited professional training.
Provide regional training workshops focused on the identification and implementation of inclusive services.
Enable library systems to professional learning and planning assistance focused on youth and inclusive services.
IMLS Data Collection
State Library Administrative Agency Survey
The State Library Administrative Agency Survey (SLAA) provides descriptive data about state library agencies for all fifty states and the District of Columbia.
Public Libraries Survey
The Public Libraries Survey (PLS) provides national descriptive data on the status of public libraries in the United States and its territories. Explore state profiles representing more than 9,000 public library systems and over 17,000 public library outlets.