Contact Name
Ms. Sara Jones
Contact Title
State Librarian
State Library Address
Washington State Library
6880 Capitol Boulevard
P.O. Box 42460
Olympia, WA 98504-2460
United States
Contact Email Address
sara.jones@sos.wa.gov
Grants to State Programs
The Grants to States Program
The Grants to States Program is the largest grant program run by IMLS; it provides funds to State Library Administrative Agencies (SLAAs) using a population-based formula set by the law. SLAAs determine goals and objectives for the funds in their statutorily required five-year plan (see below). For more information, see the Grants to States program overview.
Allotments

| Year | Allotment Value |
| --- | --- |
| 2018 | $3,490,908.00 |
| 2019 | $3,580,111.00 |
| 2020 | $3,694,301.00 |
| 2021 | $3,743,762.00 |
| 2022 | $3,719,707.00 |
5 Year Plan

5 Year Plan Text

Each state creates a 5-year plan for its programs to strengthen the efficiency, reach, and effectiveness of library services. View all states' plans.
5 Year Evaluations

5 Year Evaluation Text

At the end of a 5-year period, each state reports their results in achieving goals and objectives projected in their 5-Year Plan. View all states' evaluations.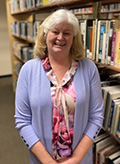 "The Washington State Library strives to ensure Washingtonians have access to the information they need today and to the history of Washington for tomorrow. The Library collects, preserves, and makes accessible materials on the government, history, culture and natural resources of the state. The Library provides leadership and coordinates services to all libraries in the State of Washington. Additionally, the Library supports the information needs of residents in state institutions and serves as the primary source in the region for published information from the federal government and the primary state publication depository. The Washington Talking Book & Braille Library (WTBBL), a program of the State Library, builds community and provides equal access to information and reading materials for Washington residents unable to read standard print due to blindness, visual impairment, deaf-blindness, physical disability (e.g. cannot hold a book or turn pages), or reading disability."
--Sara Jones, State Librarian, Washington State Library
Project Examples
Microsoft IT Academy Open Lab
Pierce County Library supported Open Lab, a program that prepares transitioning soldiers for success in civilian life by improving their technology skills and helping them find new careers in a digital world. Open Lab's services include technology training, network and database classes, extensive outreach to military organizations in the community, and free Microsoft Technology Associate Certification. Soldiers with MTA certification are eligible for further training and opportunities to intern with Microsoft. More than 1,400 people enrolled in the program, and more than 500 earned the certification. Open Lab is open 16 hours per week at RP/6, a community service organization for veterans, military service members, and their families.
IMLS Funds: $7,500
Connecting the DOTS
Washington State Library sponsored training in Supercharged Storytime techniques. These techniques were the result of a two-year study done in Project VIEWS2, which linked observed behaviors taking place during library story times to the Washington State Early Learning and Development Benchmarks. Libraries could now relate their story time programs directly to state educational standards. Saroj Ghoting and local Washington librarians who took part in the Project VIEWS 2 research study were workshop presenters. Attendees learned how to use Supercharged Storytime techniques improve reading readiness for children in various age groups. Attendees also learned about Storytime Underground and Guerrilla Story times as resources with information on new ideas, advice on planning story time programs, etc. Training workshops were held in eight locations around Washington: Tumwater, Camas, Anacortes, Silverdale, Richland, Sunnyside, Spokane, and Pullman.
IMLS Funds: $138,312
WA Rural Heritage
Washington Rural Heritage (WRH) is a collaborative digitization program serving public libraries, tribal libraries, and partnering cultural heritage organizations. The State Library trained 18 individuals and provided project management and planning for the program. The State Library also provided digital preservation services, designed and maintained project websites and provided all digital repository services. Program staff also helped raise awareness of WRH by representing the program at regional conferences and doing promotional outreach. The collections digitized were from: Asotin County Library, in partnership with the Asotin County Museum; Ellensburg Public Library, in partnership with the City of Ellensburg Arts Commission; La Conner Regional Library, in partnership with the Museum of Northwest Art, and Western Washington University; Port Angeles Public Library, North Olympic Library System, in partnership with the Clallam County Genealogical Society; Kettle Falls Public Library, Libraries of Stevens County; and Whitman County Library, in partnership with the Staley Museum, the Colfax Fire Department, and the Town of Farmington.
IMLS Funds: $106,423
Review recent Grants to States projects from this state library in the State Program Report database.
Search the Awarded Grants Database for additional details about awards in this state or view the State Details Dashboard..
View the IMLS funding by state report - Washington (PDF 1.04 MB) with additional information about all IMLS funding for this state (FY 2011 – FY 2016).
Five-Year Plan Highlights
Goal 1: Contribute to the state's economic prosperity and cultural richness by supporting relevant and high-quality education, literacy and reading, and life-long learning.
Projects Include:

Collaborate with local libraries, academic institutions, and workforce development entities to bring resources to this service area.
Support libraries' ability to increase digital literacy in their communities through workshops, sub-grants, and exposure to new technology devices.
The Center for the Book program: Promote literacy and a love of books by shining a spotlight on the contribution of reading and libraries in strengthening communities.
The Letters About Literature program: A reading and writing contest for students in grades 4-12.
Goal 2: Connect Washingtonians to their history, employing digital initiatives, and other preservation strategies to tell the stories of local communities and to celebrate our common heritage.
Projects include:

The Washington Rural Heritage (WRH) project: A collaborative digitization program serving public libraries, tribal libraries, and partnering cultural heritage organizations.
Digitize papers across five main geographic regions and strive to add non-English language papers and news from the diverse cultures.
DPLA support services: Provide training, consulting, and grants to libraries seeking to develop digital collections and content.
Goal 3: Expand the reach and effectiveness of the Washington Talking Book & Braille Library (WTBBL) with innovative outreach initiatives to increase overall user population, establish and strengthen borrower relationships, and promote high quality, accessible library and information resources.
Projects include:

The Washington Talking Book & Braille Library: Raise awareness of library services offered, increase user base through outreach to veterans, youth, non-native English speakers, and older adults who are not yet library patrons, and continue to connect residents with new, accessible reading materials in the format they need, when they need it.
Goal 4: Expand and enhance the provision of direct library and information services to incarcerated and hospitalized populations in support of education, literacy, recovery, recreation, and re-entry.
Projects include:

Institutional Libraries: Work with the Department of Corrections and other partners to identify re-entry resources and training, make those available as part of a coordinated program to support inmates preparing for re-entry. One resource provided will be a library card, from the local public library in the inmate's destination release city.
Goal 5: Elevate the quality of library service and caliber of library staff through statewide projects, facilitation, consulting, grants, training, and modeling best practices to build capacity in libraries statewide.
Projects include:

Facilitate the development of curriculum and training programs for teacher-librarians and other K-12 library staff.
Facilitate learning, interaction, and sharing of best practices for library staff in early learning and youth services.
Professional development grants: Allow local libraries the opportunity to send their staff to training events and to bring in trainers to enhance the skills of library staff.
Grants to Libraries: Fund development of new or enhanced library programs and services.
The Statewide Database Licensing project: Leverage the combined purchasing power of the state's nonprofit public, tribal, academic, K12, research, and hospital libraries to save money.
Off the Page: Downloadable Audiobooks and eBooks: Help libraries offer eBooks and downloadable audiobooks to their patrons.
The Ask-WA program: Provide a range of online reference services for Washington residents by creating a network of collaboration and support among libraries through the state.
Share WSL staff expertise with libraries throughout the state to reduce local expenses and increase staff capacity.
Provide all users with access to information through reliable high-speed Internet connectivity and infrastructure.
Librarians Supporting Student Success: Provide library faculty in Community and Technical Colleges (CTC) training on teaching practices and assessment.
IMLS Data Collection
State Library Administrative Agency Survey
The State Library Administrative Agency Survey (SLAA) provides descriptive data about state library agencies for all fifty states and the District of Columbia.
Public Libraries Survey
The Public Libraries Survey (PLS) provides national descriptive data on the status of public libraries in the United States and its territories. Explore state profiles representing more than 9,000 public library systems and over 17,000 public library outlets.