Contact Name
Ms. Irene Padilla
Contact Title
State Librarian
State Library Address
Maryland State Library Agency
25 S. Charles Street
Suite 1310
Baltimore, MD 21201
United States
Contact Email Address
irene.padilla@maryland.gov
Grants to State Programs
The Grants to States Program
The Grants to States Program is the largest grant program run by IMLS; it provides funds to State Library Administrative Agencies (SLAAs) using a population-based formula set by the law. SLAAs determine goals and objectives for the funds in their statutorily required five-year plan (see below). For more information, see the Grants to States program overview.
Allotments

| Year | Allotment Value |
| --- | --- |
| 2018 | $2,977,151.00 |
| 2019 | $3,005,571.00 |
| 2020 | $3,096,917.00 |
| 2021 | $3,124,301.00 |
| 2022 | $3,147,403.00 |
5 Year Plan

5 Year Plan Text

Each state creates a 5-year plan for its programs to strengthen the efficiency, reach, and effectiveness of library services. View all states' plans.
5 Year Evaluations

5 Year Evaluation Text

At the end of a 5-year period, each state reports their results in achieving goals and objectives projected in their 5-Year Plan. View all states' evaluations.

"Partnerships have proved valuable to our libraries' ability to offer basic and enrichment services, and we'll continue outreach efforts to find partner expertise that will help us fulfill our goals. With our libraries as community anchors, we'll emphasize programs related to civic engagement."
-- Irene Padilla, State Librarian, Maryland State Library Agency
The Grants to States Program
The Grants to States Program is the largest grant program run by IMLS; it provides funds to State Library Administrative Agencies (SLAAs) using a population-based formula set by the law. SLAAs determine goals and objectives for the funds in their statutorily required five-year plan. For more information, see the Grants to States program overview.
Project Examples
Statewide Statistics and Data Innovation
Prince George's County Memorial Library System launched a statewide data analytics project that included licensed software and training for Maryland's library systems. The project created customized reports for areas such as call number circulation statistics, library-branch service area mapping, and fiscal year transactions. By tracking various data elements through time, participating libraries were able to pinpoint local and regional trends that could help them make staffing, building, purchasing, and other major decisions. Related projects included liaison support from the state library, the formation of a statewide statistics working group, refinement of the Maryland Annual Public Library Survey, and support for the data analytics software. To support this work, Maryland's Statistics and Data Coordinator served as the data liaison for the state's public libraries, answered questions about library data and statistics, and organized several training opportunities.
MLS Funds: $355,331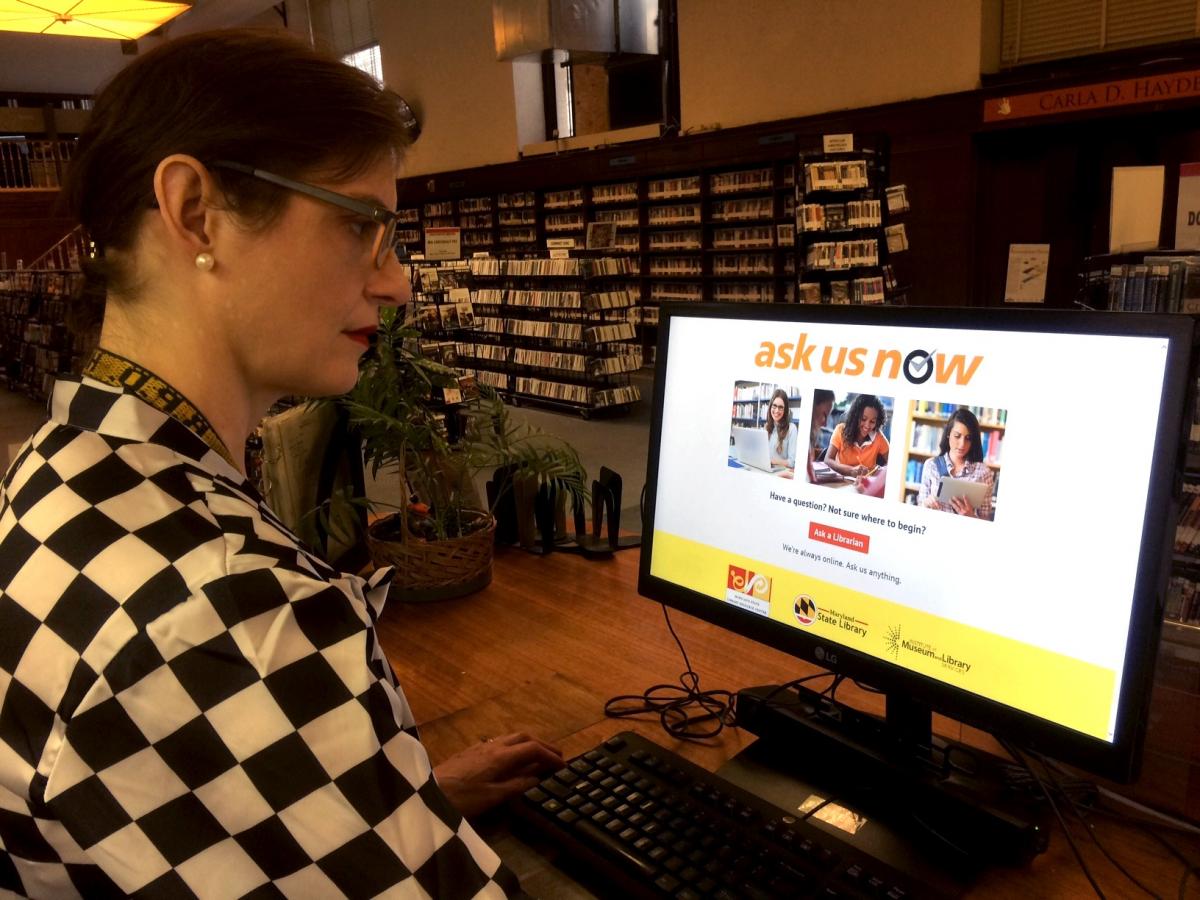 Maryland AskUsNow!
Maryland AskUsNow! is a 24/7 statewide interactive information service that uses the expertise of librarians to provide Maryland residents and students with answers to questions, research guidance, and help navigating the Internet. Administered by Enoch Pratt Free Library in Baltimore, the service exceeded its annual target by answering more than 41,000 questions. During the grant period, the library partners engaged with schools and institutions to collect and report data under a statistical sampling model. This model categorized the different types of chat questions by the level of difficulty. Levels 1 and 2 were directional/circulation and policy questions, while Levels 3 and 4 were student assignment/research questions. The grant period totals indicated that AskUsNow! chat librarians answered Level 3 and 4 research questions 60 percent of the time. When surveyed, 96 percent of customers were "very likely" or "may" use the service again.
IMLS Funds: $193,500
Accessible Technologies in Public Libraries
Grant funds helped provide assistive technology to Maryland residents and expand virtual reality programs for users of all ages. Led by Maryland's Library for the Blind and Physically Handicapped, more than 100 public library branches across the state received assistive technology workstations for residents protected by the American Disabilities Act (ADA). The workstations featured electric height-adjustable tables with computers, 27-inch monitors, special keyboards, and software for screen reading, screen enlarging, and capabilities to read aloud any print text. The Virtual Reality (VR) Roadshow was launched to provide training to library staff about setting it up VR equipment and guiding the public through various user experiences.
IMLS Funds: $907,497
Review recent Grants to States projects from this state library in the State Program Report database.
Search the Awarded Grants Database for additional details about awards in this state or view the State Details Dashboard..
View the IMLS funding by state report - Maryland (PDF) with additional information about all IMLS funding for this state (FY 2018 – FY 2022).
Five-Year Plan Highlights
Goal 1: The Maryland State Library Agency will strengthen libraries' institutional capacity through collaborative continuing education and staff development opportunities that will create a strong and innovative library workforce.
Projects include:

Training and staff development through partnerships and grants
Statewide digital platform to improve access to learning
Expansion of statewide staff development to academic and school libraries
Business model for innovation to support projects and share learning
Support for statewide communities of practice
Library Associate Training Institute
Learning opportunities for leadership and innovation
Grants for strategic planning initiatives
Access to information resources through the Maryland Library Consortium
Updated library websites for improved accessibility
Grants for data tools and resources
Grants for community needs assessment, asset mapping, and outcomes measurement
Goal 2: The Maryland State Library Agency will help libraries improve access to information for their users.
Projects include:

Virtual reference systems, including AskUsNow and InfoEyes
Adaptive and assistive technologies
Digital Maryland collections and metadata standards
Increased access for the digitally disadvantaged
Maryland Deaf Culture Digital Library
Maryland Accessible Textbook program
Technologies for blind, visually impaired, physically disabled and reading disabled Maryland residents
Goal 3: The Maryland State Library Agency will help libraries develop lifelong learning opportunities in order to improve users' formal education and general knowledge and skills.
Projects include:

Early learning and family engagement for information literacy
Reading incentive programs for middle schoolers
Technology Education and STEM instructional programming
Collaborative Summer Library Program (summer reading)
Information literacy initiatives
Special accessible programming to promote arts and information literacy
One Maryland One Book partnership
Youth programming within correction centers that encourage family literacy
Goal 4: The Maryland State Library Agency will help libraries foster economic and employment development opportunities in order to facilitate job growth in Maryland.
Projects include:

Programming within correction centers that encourages workforce skill development
Grants for workforce resources in libraries
Community of practice for employment resource centers
IMLS Data Collection
State Library Administrative Agency Survey
The State Library Administrative Agency Survey (SLAA) provides descriptive data about state library agencies for all fifty states and the District of Columbia.
Public Libraries Survey
The Public Libraries Survey (PLS) provides national descriptive data on the status of public libraries in the United States and its territories. Explore state profiles representing more than 9,000 public library systems and over 17,000 public library outlets.