Contact Name
Ms. Stacey Aldrich
Contact Title
State Librarian
State Library Address
Hawaii State Public Library System
44 Merchant Street
Honolulu, HI 96813-4311
United States
Contact Email Address
stlib@librarieshawaii.org
Grants to State Programs
The Grants to States Program
The Grants to States Program is the largest grant program run by IMLS; it provides funds to State Library Administrative Agencies (SLAAs) using a population-based formula set by the law. SLAAs determine goals and objectives for the funds in their statutorily required five-year plan (see below). For more information, see the Grants to States program overview.
Allotments

| Year | Allotment Value |
| --- | --- |
| 2018 | $1,221,833.00 |
| 2019 | $1,226,683.00 |
| 2020 | $1,334,393.00 |
| 2021 | $1,366,010.00 |
| 2022 | $1,378,888.00 |
5 Year Plan

5 Year Plan Text

Each state creates a 5-year plan for its programs to strengthen the efficiency, reach, and effectiveness of library services. View all states' plans.
5 Year Evaluations

5 Year Evaluation Text

At the end of a 5-year period, each state reports their results in achieving goals and objectives projected in their 5-Year Plan. View all states' evaluations.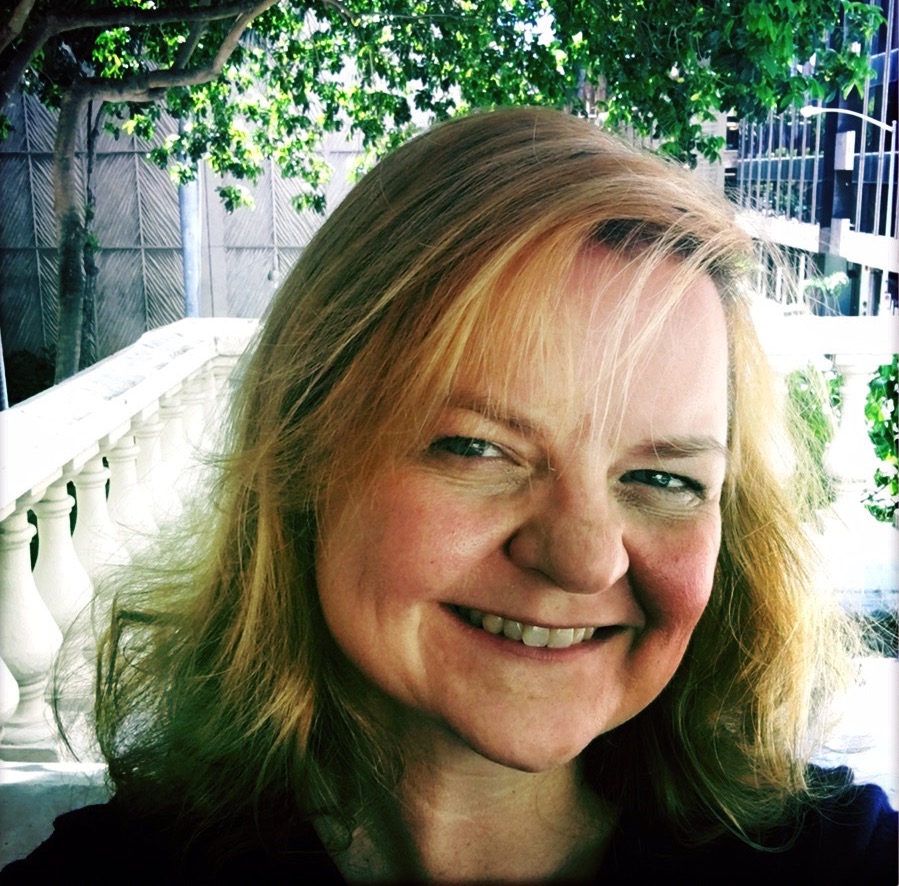 "The Hawaii State Public Libraries are powerful spaces that enhance the life of the mind in each of our communities. We support self-sufficiency and the success of each person who walks through the physical or virtual doors. The health of our communities is enhanced when we have strong libraries that provide opportunities for learning 21st Century skills and literacies, connecting people to the world of information and ideas, and creating spaces for community engagement."
-- Stacey Aldrich, State Librarian, Hawaii State Public Library System
Project Examples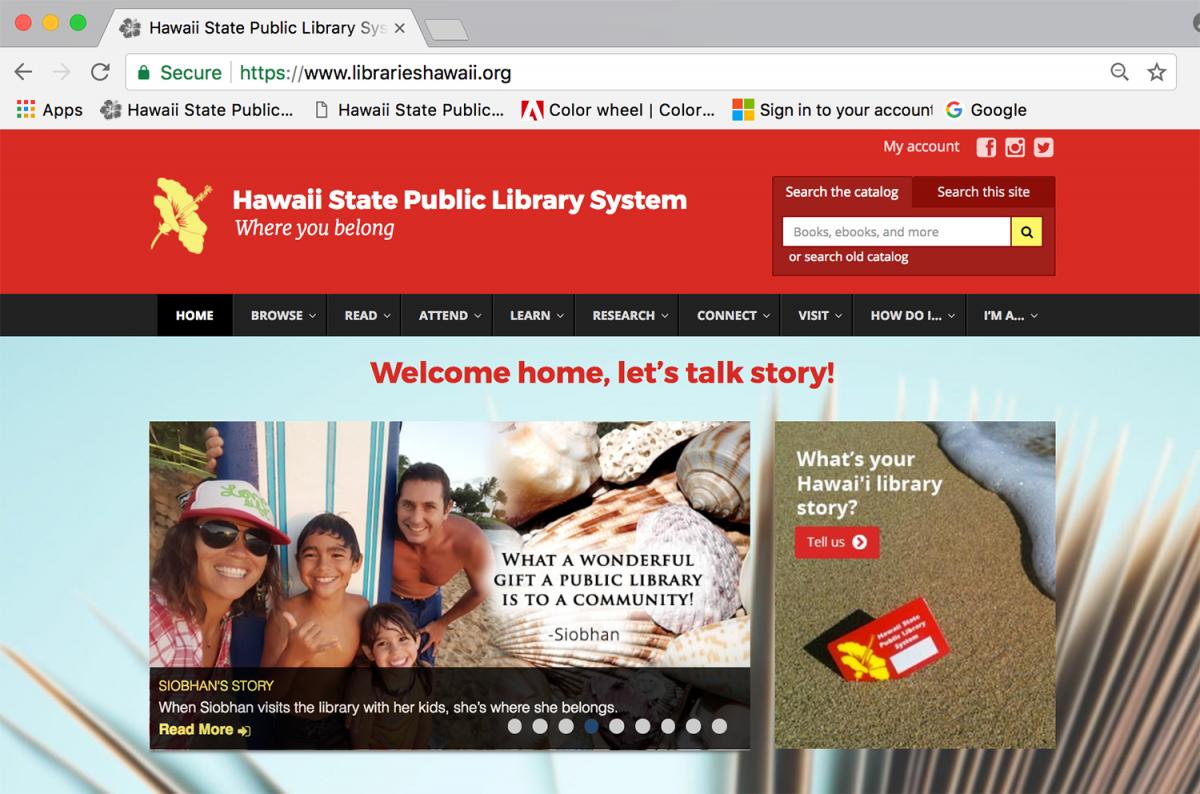 Ensuring Access to Library Resources
The Hawaii State Public Library System (HSPLS), made up of 50 branches on six of the eight major islands, is dedicated to ensuring that state residents have equitable access to information. For HSPLS, a robust technological infrastructure includes Internet connectivity, public access computers, management of the physical collection through an integrated library system, and tools to manage connectivity, collections, and communication. During the grant period, usage of Internet, public computers, and laptops in all 50 branches increased, and staff worked with outside consultants to plan and redesign the HSPLS website. In addition to maintaining day-to-day operations, staff also managed a server migration and deployed new software and hardware.
IMLS Funds: $597,789
Continuing Education for Staff
To address the need for training 500 staff spread over six islands, Hawaii State Public Library System (HSPLS) used grant funds to purchase software to conduct webinars and online meetings. Staff training is a critical component for library services. It ensures consistency among all branches and helps staff acquire the technology skills to aid patrons. After an initial training period, HSPLS offered a first set of webinars on eBooks software. This was followed by sessions on summer reading programs targeted to librarians serving adults, children, or young adults. The webinars are significantly more cost-effective and scalable. Face-to-face training normally involves air travel, land transportation, and per diem costs, as well as time lost in transit.
IMLS Funds: $2,538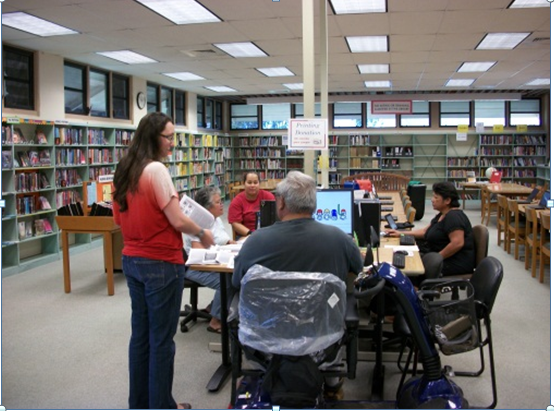 Access to Informational Resources
In Hawaii's dispersed network of branches, online resources are the most effective way for Hawaii State Public Library System (HSPLS) to provide all residents with equitable access to information. Grant funds supported access to online databases that met patrons' needs for information. HSPLS renewed subscriptions for content ranging from auto repair to genealogy to legal forms. Some subscriptions provided infrastructure for library functions, such as cataloging and resource sharing services. Among other content, HSPLS also provided eBooks, eAudiobooks, and eMagazines. Total circulations for these materials grew to more than 635K, compared to nearly 476K the year prior.
IMLS Funds: $417,615
Review recent Grants to States projects from this state library in the State Program Report database.
Search the Awarded Grants Database for additional details about awards in this state or view the State Details Dashboard..
View the IMLS funding by state report - Hawaii (PDF) with additional information about all IMLS funding for this state (FY 2011 – FY 2016).
Five-Year Plan Highlights
Goal 1: Robust Infrastructure
Projects include:

Technology infrastructure
Hardware, software, and professional automation services
Goal 2: 24/7 Virtual Collections
Projects include:

Online databases and eBooks
Training opportunities to support the use of databases
Goal 3: Lifelong Learning
Projects include:

Online learning tools and resources
Training opportunities to support the tools and resources
Goal 4: Innovative Service Development
Projects include:

Improved services and programs
Goal 5: Educated Library Workforce
Projects include:

Development of staff competencies
Development of training infrastructure
Support for leadership development opportunities
IMLS Data Collection
State Library Administrative Agency Survey
The State Library Administrative Agency Survey (SLAA) provides descriptive data about state library agencies for all fifty states and the District of Columbia.
Public Libraries Survey
The Public Libraries Survey (PLS) provides national descriptive data on the status of public libraries in the United States and its territories. Explore state profiles representing more than 9,000 public library systems and over 17,000 public library outlets.