May 25, 2022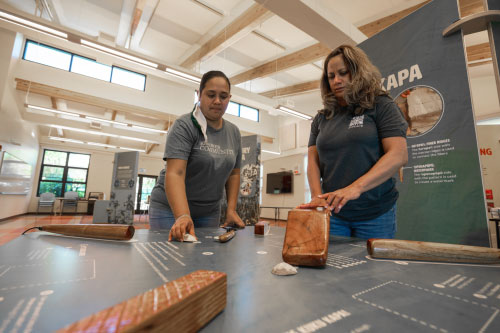 "The most beneficial part of working on this project has been the opportunity to work with practitioners and experts who hold deep knowledge and have been crucial in the sharing of the practices with folks like us." — Sanoe Marfil, Chief Programs Officer at INPEACE
What do Hawaiian culture and STEM learning have in common? Both are on display and open for exploration via a mobile, hands-on science exhibit created by the Institute for Native Pacific Education and Culture (INPEACE).
The Native Hawaiian nonprofit organization in Kapolei, Hawaii, fosters an interactive learning environment to encourage interest and engagement in science and math for students from preschool to eighth grade. Thanks to grant funding from the Institute of Museum and Library Services (IMLS), science experts, teachers, students, and cultural practitioners collaborated to design the 'Ike Hawai'i Science Center Exhibit using a culture-based educational approach that links indigenous knowledge and practices with scientific theory.
Tailoring Programs to Participants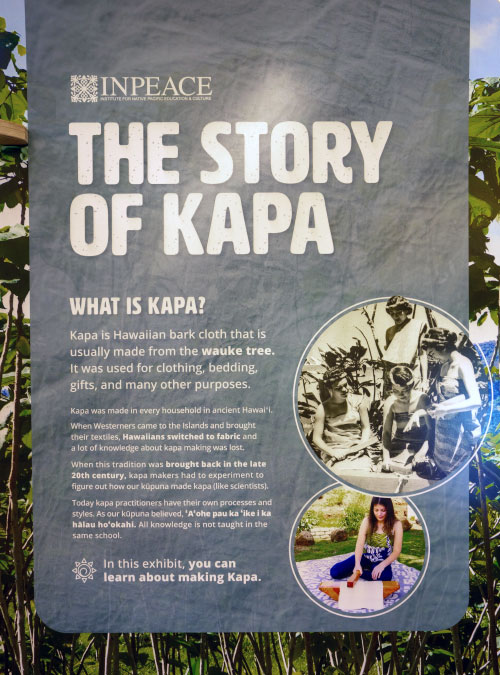 INPEACE serves communities with a high concentration of Native Hawaiian individuals and focuses on education for the entire family. All of their programs are grounded in Hawaiian culture and span from early childhood education to family economic education.
For example, when discussing concepts about saving money and planning for the future, they used fishing as their teaching model. That is, when you are fishing, you don't take more fish than you need at once—instead, you leave the smaller fish, which will grow and be harvested at a later time.
Sanoe Marfil, Chief Programs Officer, oversees the daily functions of all the programs at INPEACE and said that several areas of expertise had to combine to provide such an enriching and multilayered exhibit offering. "For the 'Ike Hawai'i Science Center Exhibit, I worked with a team of individuals including a project manager, a cultural specialist, and a scientist to achieve our goals," she said.
This exhibit is centered around helping participants learn about kapa (bark cloth), including the practice of identifying the plant, preparing the plant's bark to turn it into the kapa, pounding and printing it, and understanding the uses of kapa. It also strives to encourage a desire among participants to learn more and engage in their own kapa activities and discover the science behind working with it.
Increasing Education on the Islands
Despite a successful launch in January 2022, the ongoing pandemic presented a challenge to the project team. "Our project timeline was extended due to the closure of our building and spaces, so we navigated and pivoted when we needed to," Marfil said. "We had to wait to take our exhibit into the community because facilities and venues were not open yet."
But now, the 'Ike Hawai'i Science Center Exhibit is ready for its mobile debut, with plans to visit rural Native Hawaiian communities on O'ahu and at least one other island.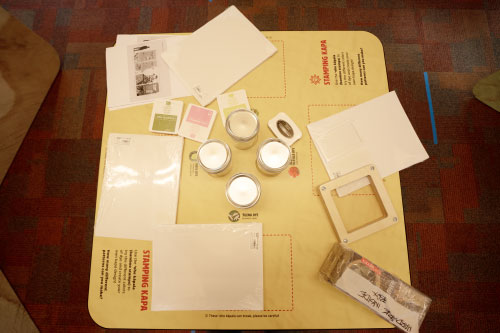 Based on the outcomes from this project, INPEACE is working on two additional mobile exhibits—one about mahina (the moon) and another about lawai'a (fishing practices). These exhibits—which will again combine science and culture—are in the creative design phases, and the team plans to complete them by 2023.
About the Project
Grant Project Name: 'Ike Hawai'i Science Center Exhibit
Grant Log Number: MN-00-19-0008-19
Year Awarded: 2019
Recipient: Institute for Native Pacific Education and Culture (INPEACE)
Project Contact:
Sanoe Marfil
Chief Programs Officer
INPEACE
sanoem@inpeace.org
Website:www.inpeace.org
Program
Native American/Native Hawaiian Museum Services