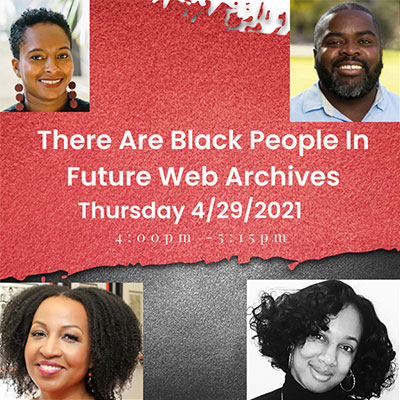 February 23, 2022
"The solidarity in our mission to create awareness and opportunity to lessen the disparities in what gets archived and who gets to participate in it has been extremely rewarding and motivating." —Makiba Foster, Project Director, African-American Research Library and Cultural Center
One thing organizations have learned during the COVID-19 pandemic is that digital spaces really can make excellent settings to spark creativity and bring communities together.
This situation aligned perfectly for Makiba Foster of the African-American Research Library and Cultural Center (AARLCC) at the Broward County Library in Florida and Bergis Jules of Shift Collective as they launched their project, Archiving the Black Web (ATBW).
"We created ATBW with the purpose of starting a national dialogue and building an inclusive community for those who want to collect and preserve Black knowledge and information," Foster said. "The commitment to the mission of documenting Black life requires gaining digital capacity in order to archive content of both historical significance and everyday lived experiences."
By developing an infrastructure and framework to collect and preserve Black history and culture online, documenting its digital footprint will be made easier.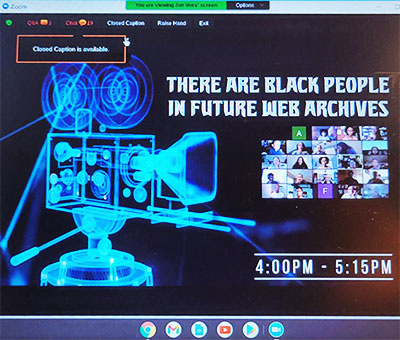 Creating a Community
Foster explained that the AARLCC's collecting practices suffered from their lack of capacity to integrate web archiving into their workflows—and they knew they weren't the only organization facing this problem. After receiving a National Leadership Grant - Libraries award from the Institute of Museum and Library Services, they set out to create community, awareness, and training by using the grant funds.
Their vision was two-fold:
Develop a collaborative strategy focused on research, funding, collection development, and public engagement to guide archiving practices for web content about Black people;

Define the goals, purpose, and functional aspects of the Black Web Archives Collective, a network for archivists, scholars, librarians, activists, technologists, and others interested in researching and preserving archives from the web and social media that document the lives of Black people.
"Learning and collaborating with project partners representing a variety of Black knowledge-collecting organizations from across the country has been the best part," Foster said. "The people and organizations that our grant hopes to support truly understand why this issue is critical and want to participate."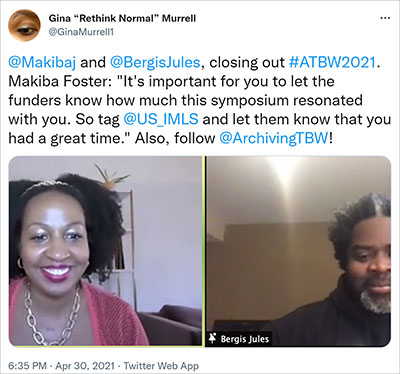 Pivoting to Success
Despite the initial impact of the pandemic, Foster and her team have adjusted and reframed the execution of their project. They hosted two successful virtual events in 2021: a two-day national forum in April and a two-day web archiving workshop in September.
Currently, the plan is to continue this work to create an independent collective of organizations engaging in the practice of archiving Black web content together. In the short term, ATBW is planning their final national forum to be hosted in-person in May 2022.
"The digital content from the past few years has so much historical significance, and the need to web archive just a fraction of the Black lived experience through a deadly world health crisis will be illuminating for future research and understanding," Foster said.
About the Project
Grant Project Name: Archiving the Black Web (ATBW)
Grant Log Number: LG-246398-OLS-20
Year Awarded: 2020
Recipient: African-American Research Library and Cultural Center
Project Contact:
Makiba Foster
Project Director
African-American Research Library and Cultural Center
MJFOSTER@broward.org
Website: https://www.broward.org/Library/Pages/AARLCCStory.aspx
Program
National Leadership Grants for Libraries