Date Time:
July 17, 2017 3:00 PM ET to 4:00 PM ET
Event Location:
National Archives Museum, Washington, DC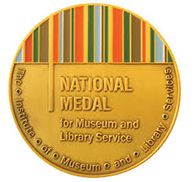 The Institute of Museum and Library Services for the 2017 National Medal for Museum and Library Service award ceremony. The ten winners honored at the National Archives Museum located in Washington, D.C. on July 17, 2017. Watch the recorded event on our website and the IMLS channel on YouTube.
Monday, July 17, 2017, 3 p.m. Eastern
National Archives Museum, Washington, DC