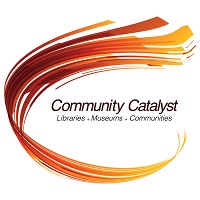 Editor's Note: This past fall, IMLS launched Community Catalyst, a new initiative aimed at sparking a conversation around ways to help libraries and museums develop a deeper understanding of the best ways to work with communities to bring about positive change. Through a cooperative agreement with Reinvestment Fund, the agency scanned the literature and gathered input from the library, museum, and community revitalization fields. The results of that scan are part of a newly released report (PDF, 28MB). This is the latest in a series of blogs this month highlighting the initiative.
Emily Joseph
Amazement Square
Access to quality early learning experiences has been a key focus for Amazement Square over the past 10 years. The initiative's foundation was based on a partnership with the regional healthcare provider and the Lynchburg City School System, and today has developed into a comprehensive outreach program serving identified underserved early learning centers. For 6 years, the pilot program for this initiative focused on a close partnership with Dominion Kidz, an underserved early learning center 2 miles from the museum.
While building relationships with center staff and children, we found that low wages and limited training in developmentally appropriate practices for center staff was a significant challenge for effective learning interactions. This, coupled with a population of children with significant social and emotional learning lags, indicated the need for an approach that supported behavioral gains for the children. Our work, therefore, has evolved to a more comprehensive approach that empowers staff to feel supported as professionals and children to effectively process their emotions.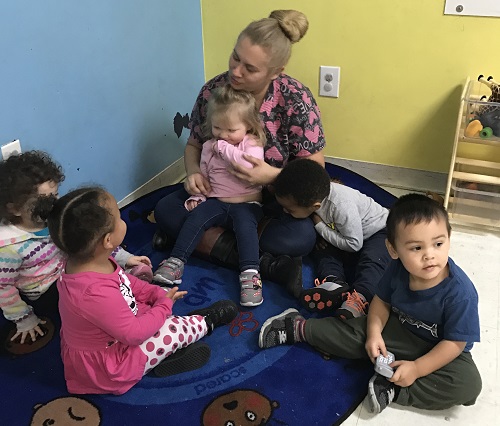 This holistic and empathy-building approach produced dramatic results: one mother reported that her son, a program participant, began to use the ASL sign for "mad" to express frustration (rather than his usual tantrums); incidences of classroom aggression decreased; and center staff incorporated developmentally appropriate learning supports.
Amazement Square recognized that Dominion Kidz is one of many centers attempting to help at- risk kids with limited resources and staff training. We realized that we needed logistical help to expand our program to meet the scale and demand in our region, in which 1/3 children live in poverty. We partnered with Virginia state-mandated Smart Beginnings and its close ally, Virginia Quality, to create a program whereby pre-existing Quality Rating and Improvement Measures (performed by Virginia Quality) could be leveraged to identify centers in need and evaluate our efforts.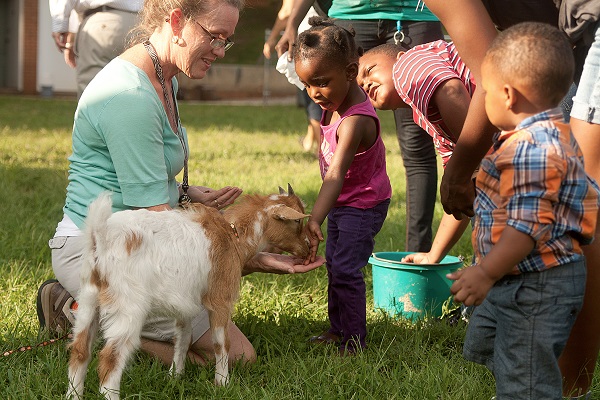 Building on our work with Dominion Kidz, we are preparing our 4th center collaboration model.
The 10-week program includes an initial observation and evaluation visit, eight weeks of intensive mentoring, and a concluding observation and evaluation visit. Follow up visits and support work are conducted to ensure that gains made are not lost over time.
In classrooms, we utilize a collaborative model: an Amazement Square educator delivers social/emotional-focused curricula to students while a Virginia Quality Technical Assistant mentors center staff, using the Amazement Square educator as a model of effective classroom strategies and interactions. We have found that student behavior is improving with the establishment of routine and the focus on recognizing and appropriately honoring emotions. One-on-one mentoring for the center staff is proving just as powerful, helping center staff to see themselves as educators and to be reflective of their practice.
We have found that first and foremost it is important to help, mentor and empower under- equipped staff at these centers and equally important is the need to create a socially positive environment for the kids. The life skills instilled in social/emotional learning are indeed more foundational than traditional kindergarten readiness standards. Further, collaboration with local partners has allowed Amazement Square's efforts to grow beyond what would be possible on our own.
About the Author
Emily Joseph is senior vice president at Amazement Square, a hands-on museum in downtown Lynchburg, Virginia. As part of the museum's partnerships with the community, it has responded to calls for help in the areas of special needs, health, and early learning. Amazement Square was awarded a 2015 National Medal for Museum and Library Services.