By Susan Miura
Schaumburg Township District Library
Amidst patriotic decorations, accompanied by friends and family, citizenship candidates proudly hold up their right hands to take the Oath of Allegiance during  the semi-annual naturalization ceremonies at the Schaumburg Township District Library (STDL). I am honored to photograph these shining moments, and awed by our Literacy Coordinator, Patricia (Pat) Barch, whose passion to support newcomers to our country resulted in the library hosting these ceremonies. From filling out forms to countless communications with officials at U.S. Citizenship and Immigration Services (USCIS), she tenaciously inched toward her goal of performing the ceremonies at the library. Coordinating with the local American Legion Post, musicians and library staff solidified the details. As a result, citizenship candidates in Chicago's northwest suburbs have a convenient, local option to complete their process of becoming a U.S. citizen.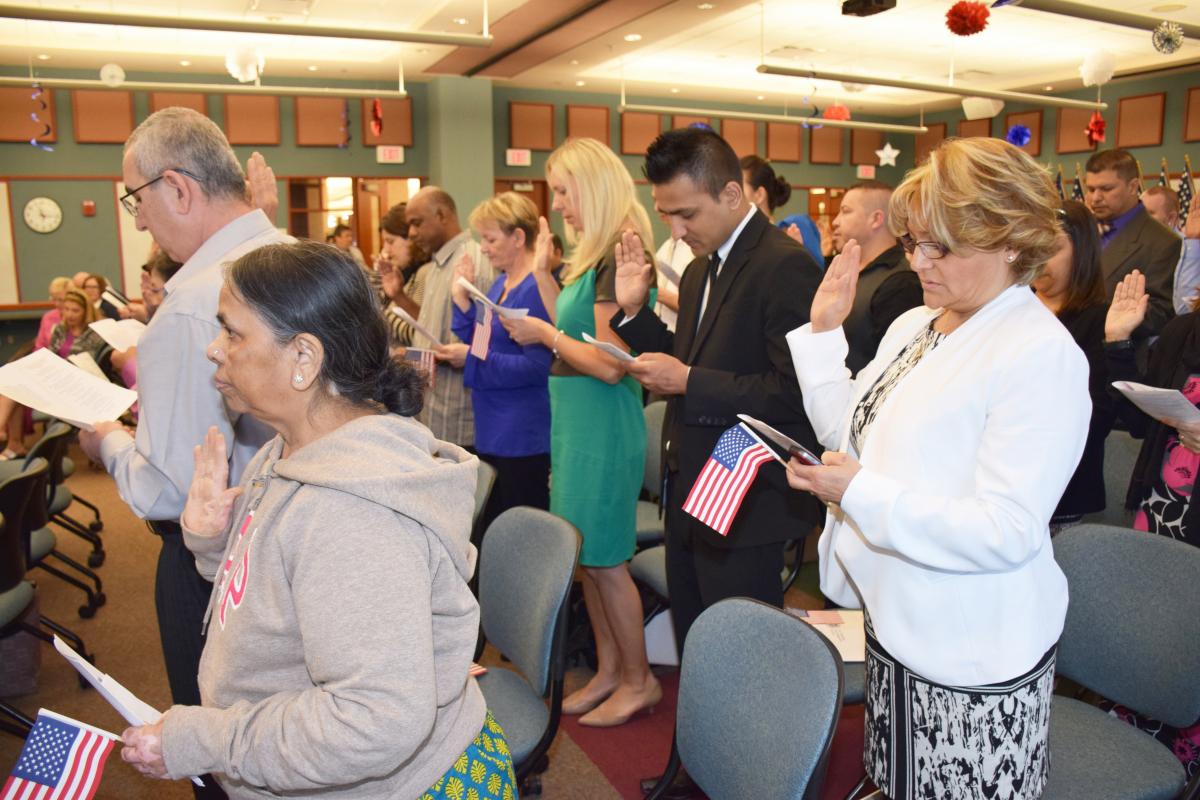 Candidates from many countries take the U.S. Naturalization Oath in Spring 2015 – a final step in becoming U.S. Citizens.
Each event is attended by some 75 candidates, representing as many as 30 countries. From Albania to Zambia, candidates walk through the doors, each with his or her own story and challenges. Their presence at the ceremony is the culmination of years of studying, learning English, and working hard to pay visa, green card, legal and application fees.
Rukmini Punjabi is one such person. Hailing from India, she moved in with her daughter in Hoffman Estates, IL, and began taking citizenship classes at STDL's Hoffman Estates Branch Library during the bitter winter of 2013. Despite subzero temperatures and, on occasion, blizzard conditions, Rukmini never missed a class. "She was determined to finish," Pat said. "She was so intent on becoming a citizen, that nothing was going to stand in her way." When the library held its naturalization ceremony in spring 2014, Rukmini triumphantly accepted her Certificate of Naturalization, then placed her hand on her heart for her first ever Pledge of Allegiance.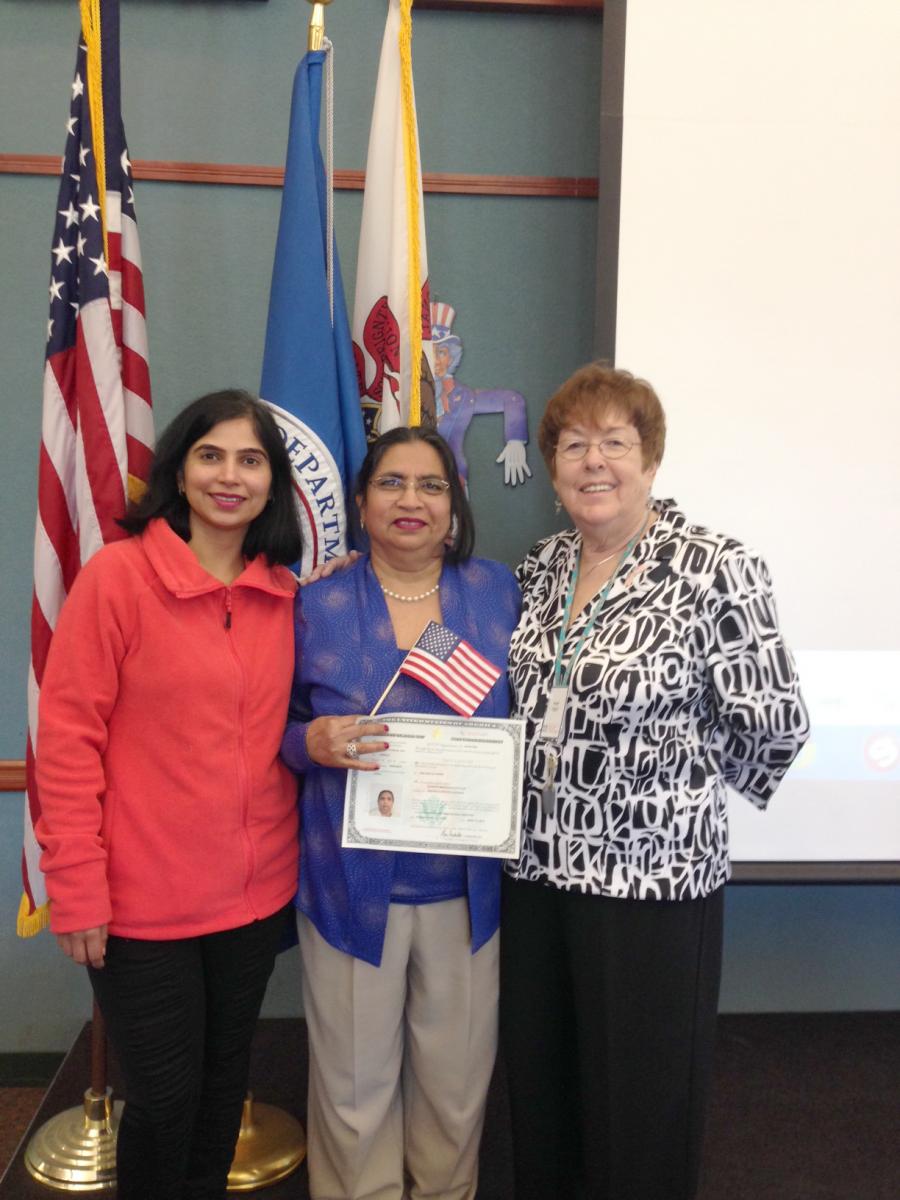 New U.S. Citizen Rukmini Punjabi (center) poses with her daughter and Schaumburg Township District Library Literacy Coordinator Pat Barch following one of the Citizenship (Naturalization) Ceremonies at the library. 
Each ceremony begins with welcome speeches by USCIS officials, the library board president, and even the President of the United States makes an appearance, via video.  Following the welcome, the candidates for citizenship are honored with the Presentation of Colors by the Schaumburg-Hoffman Estates American Legion Post 1983 before the Oath of Allegiance is administered by the USCIS District Director.
Library Director Stephanie Sarnoff says the ceremony is a tribute to the rich diversity of our community. "Hosting the citizenship ceremony is an honor for the library," she said. "We are grateful for the opportunity to play a role in helping people fulfill a dream. Some of them attended literacy and citizenship preparation classes here at the library. Seeing them come full circle by taking the oath is truly an indescribable feeling."
Susan Miura is the Public Relations Coordinator for the Schaumburg Township District Library. She has been photographing the library's Naturalization Ceremonies since the first one in September, 2011.