IMLS is committed to supporting innovative programs that invest in recruitment, training and professional development opportunities for museums and libraries and support their ability to implement best practices. Please join us for an #IMLS2018 Twitter chat about how to build the capacity of museums and libraries to support their communities.
Wednesday, January 24
2:00 p.m. to 3:00 p.m. Eastern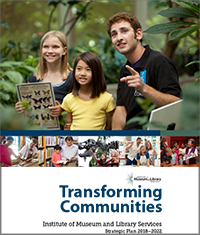 Transforming Communities: IMLS Strategic Plan, 2018–2022 (PDF, 4.5MB).